Types of Ohme Porcelains
Old Ivory covered vegetable
Pattern #11
This factory produced two major lines of porcelain, which are generally referred to as clear glaze and Old Ivory porcelains. Both are made of the same raw materials, but the Old Ivory line is clearly distinguishable by its additional delicate ivory colored matte glaze. The Old Ivory pieces were frequently marked as Old Ivory, and given pattern numbers.
The Old Ivory line is believed to have been produced exclusively for the American market. Today this porcelain is highly sought after by dealers and collectors.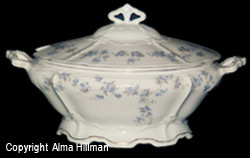 Clear glaze covered vegetable
The Ohme clear glaze line of porcelain was produced in large numbers, and appears to have been the largest line produced by this factory. It was white and decorated with a wide variety of floral and geometric patterns. Clear glaze pieces often show the blue fleur-de-leis mark.